Elon bought Twitter.
So? What Next? What's in it for You and Me?
Other than making #twitter an Open Source Platform, getting bots under control, and prevailing free speech, this change in ownership has more to offer. Though Musk's immediate action was to fire the authoritative personnel, his vision toward Twitter has a long way to go.
And as it comes, Social Media is more than just a platform nowadays. It is a business mart for thousands of service providers and consultants who create their distinct mark with their audience.
But now, this change – where does it stand?
What is the Future of Twitter? Where should you position yourself on Twitter as a Content Creator, a Business Owner, and a Marketer? Or,
Do you even need to consider Twitter?
If you have these and + a hundred other questions – you will no longer have them after reaching the end of this guide.
So with that said,
Here is what you can expect with Musk Freeing the Bird!
First and Foremost, the preliminary perspective to understand is: This change is best for people who Grow on Twitter and worse for people who grow through Twitter.
Let me elaborate. Platforms like #linkedin and #reddit have created their unique positioning by developing themselves as inclusive platforms. Wherein they promote intrinsic content, any content piece that takes users away from the platform is not given an organic push.
Whereas platforms like #pinterest and Twitter [so far] act as extrinsic platforms that help people redirect traffic to their leading platforms through these marketing channels.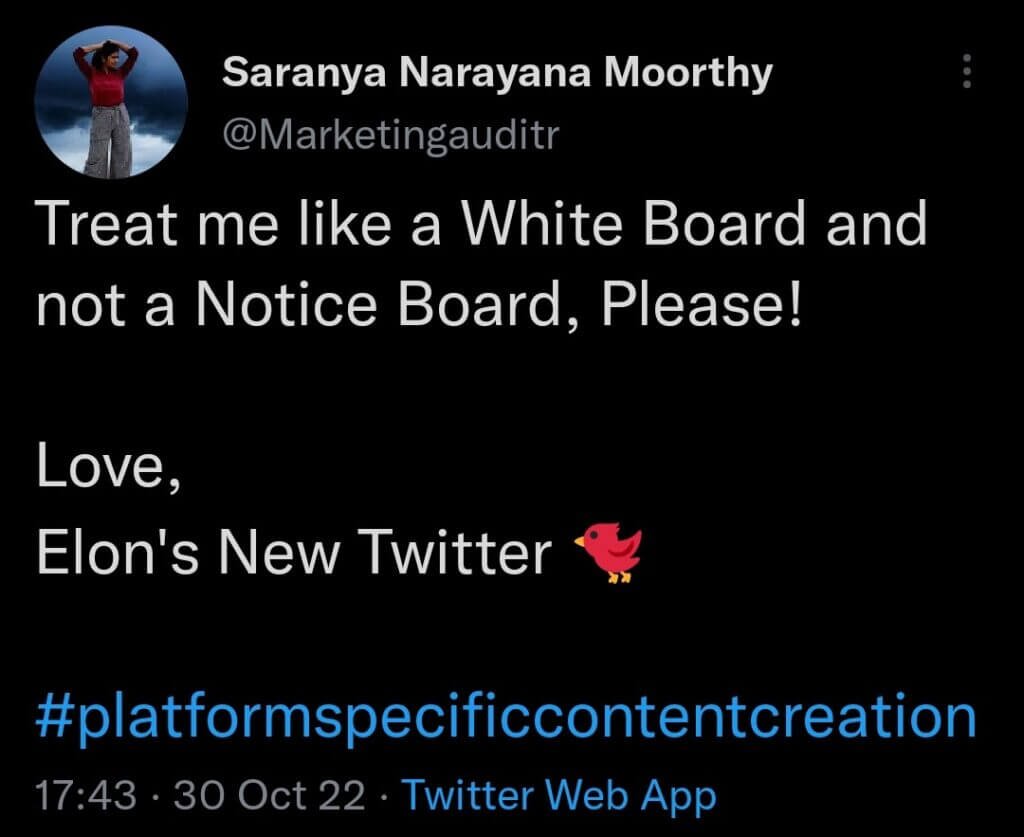 So with Musk taking over, we can expect Twitter to be entirely focused on growing to be an Intrinsic platform and become self fuelled than being extrinsic the way it has been so far.
But this is not just it! Let me take you through other exciting things Elon brings to Twitter.
Grow Better by Understanding Referral traffic from Twitter
When you think of growing in Social Media – evaluate your traffic and understand sources. And if your current website traffic points on Twitter – you may need to make other decisions to keep your fuel working for you. With the new face of Twitter, you can not expect traffic to flow OUT of twitter – but it can compound and build a brand for you. So give it a chance to grow into a stand-alone platform focusing on Intrinsic content creation.
Make Twitter Value Focussed:
The next version of Twitter would be more vision focussed. By Vision, I would portray the core values of the brand and specific content focussed. With the introduction of long-form tweets, we can expect more immersive value generation from Twitter.
Soon you will realize that two types of content contribute to higher engagement.
Educational Content
Entertainment Content
Conversely, factual and Informational content take the lead with an added pun element. This algorithmic change can pave the way to more News and Discovery sprouting on Twitter while casual updates and cross-platform sharing take a backstage.
With every content being focused and intentional, brands have a higher growth probability. Increased user retention would add up the stream. As a side benefit, the depth increases when the focus of content shifts to the bolder side, thus paving the way to higher conversion rates.
Elon may have helped your business!
Free Speech Platform
Less moderation comes with less invigilance, which would pave the way to more extensive conversations and debates. But would the heated-up conversations turn violent? We need to wait and watch.
While this is a boon to creators, it might be challenging for brands. The ones with non-premium customer service or B Grade products/services might suffer a severe blow. It isn't a shock even if the reviews go B-Grade. Lol!
But on the bright side, Twitter can now be used as a platform for the best customer surveys and reviews. If brands manage to get a merit score in the star rating, there is nothing that would damage their credibility. Come on, ambitious small business owners! After day and night of putting your heart into your products – you are getting the spotlight now!
Moving with a Clear Intent
Move towards twitter with an Intent. No more 'I am bored' tweets or on-the-go fun series [except if that's what's your niche]. Have a Vision for your brand and content, and with every tweet and thread of yours – ask yourself if you can match your brand's vision. If you aren't sure – do not post it.
If twitter becomes more user-driven, it is more likely to become a secondary version of Reddit, where users and posts are ranked by relevance, non-spam, value, and thought leadership. This would mean customers would be the judge, and your content would be appreciated by user engagement. Higher the engagement, the higher the ranking – no bias! So be prepared for it by creating your content accordingly. Because if that's the case, there are higher chances of your responses getting ahead of your content Karma :p
Value for Marketing
Yes, it's straightforward good news for Marketers and Business Owners. When twitter brings in Authentication, this is more like getting a KYC done for your Twitter account. With so many real humans and fewer bots [we can never get that to zero], just like LinkedIn, Twitter can grow with splendid remarkability and provide a higher ROI for content marketing.
Imagine the seamless targeting system, the non-spammy market research capabilities, higher audience outreach, and focused marketing! These are precisely what marketers starve for. And now, Twitter is all set to provide it on a golden platter.
Twitter – the Advertisement God!
"Advertisement on Facebook is cost-effective. But comes with a higher spam score, so I preferred LinkedIn. But damn! It's super expensive!"
Okay, business owners – Elon heard you cry!
So here he is: merging the high-quality audience of LinkedIn and the reliable marketing costs of facebook to bring you the God of Advertisement! Since bot removal is under work and humans are authenticated – there is no way for spam or low engagement if you provide intentional content. With higher human value combined with musk's ambitious goal of getting half the world population [roughly 3.2B Users] as Twitter users, the platform's opportunity is beyond incredible. And with such a value addition, Elon has also promised lesser focus on revenue generation through advertisement. Hence, this gives us enough room to move around with more secondary props to run into.
So Tadaaa! You are going to Love Twitter Ads!
Creators! Monetization is here:
Once again, good news! Okay, I was wrong. GREAT NEWS, folks!
Twitter, under musk, is bringing in Monetisation for content, especially videos. So when this Freemium model of Twitter comes into action, many intentional content creators can take the stage and make it all theirs by providing Value and edutainment. With Videos being monetized, similar to youtube, creators can create an in-depth, immersive content experience for the audience by spreading their wings and opening their brains!
Is anything better than being paid for your knowledge? Nah!
On this note, Twitter is also expected to join #quora, #medium soon, and #instagram [in some countries] to join the 'Subscription' club and create a stream of content available only to premium subscribers.
Maybe another platform where people feel, "No Money, No Money, No Honey, No Honey da!" what, bruh! Cha!
But here is a 'bulb on' moment for you as a creator: Twitter is transforming into a space that could give you higher value by endorsing you whenever you give your audience the right content. Monetizing your videos that are well received by your audience, providing you with an enriching community and, in turn, also reducing the advertisement costs!
So imagine the kind of value and creative freedom you can possess in such a free space. All you have to do is one thing: Understand your audience and create consistent content for them. That's all it takes to make money, be a thought leader, and grow your community.
If this isn't freedom, I don't know what is!
With that being said,
Not every path you take is flowers and rainbows. So here are the Pins and Needles:
Bringing Latest over Hottest?
One reason why many prefer YouTube over Instagram is because of the relevancy and ranking algorithm. The lifetime value of a post is incredibly lesser. Unless a post/reel becomes viral and forms a trend, its shelf life is barely a week. But with #youtubeseo, the video lifetime can even be a decade when optimized right. With value-based SEO algorithms, the post tends to perform exceptionally well and continue to show up with relevant search terms.
With Twitter so far, the trend was such that any topic that is most spoken about makes it to the Top. The Hottest trends always make their way to the top rankings, which has grown to such a pace that, just like news channels, people tune in to Twitter to get credible updates and Global happenings within minutes of the incident itself. But if this changes and the algorithm favors the latest content, then I wonder how the platform's integrity would be maintained. Twitter could have version 2! Oh wait, we already have a Before-Elon and After-Elon version!
Are all of us getting Blue Ticks?
This is yet another chaos prevailing in the user environment! How would celebrities and blue tick owners retain their clout if all users were given a '#verified' status? Wouldn't they be disappointed that everyone gets the toy they fought hard to get? Or wouldn't the blue tick of twitter lose its crown status?
No idea! Currently, we only have theories and anticipatory debates around this topic, as there are no anchoring statements from musk to support this. For now, I believe Twitter would bring 'authentication' as a pre-requisite and not as a perk. So when this happens, celebrities can still retain their blue tick without fearing sharing it with the masses.
Though Musk has successfully outranked the 'deep niche' concept and personally placed his footprints in multiple industries, he has always done his best to avoid Monopoly and spread across a broad model. But this again brings questions about the underlying intention behind spreading so thin.
Is musk building his super world? Is Musk planning to connect these various systems and develop vertical integration? What is it? Well, we have yet to find out! But the ambitious goal of boosting the annual revenue of Twitter by 500% by 2028 without relying on Ads has not only raised our eyebrows but also given a confidence factor as musk is known for revolutionizing.
What is a blog without its end questions and nuggets for its audience to think about? So here are my share of doubts and theories:
Under Musk's reign, the New Twitter is said to be an 'edit button.' Since the platform is more towards facts, discussions, and healthy debates, wouldn't the edit button be a spoiler? Man, come on! What if I conduct an entire debate on Pineapple over Pizza and later edit it to Porn on Pizza? Wouldn't the vegan community be disappointed? So how is musk planning to play it? Would he show the version history? Maybe like Google Docs? Sounds fair, right?
How would the anonymous Twitter reporters survive with authentication and verification coming into play? Since Musk has already favored private journalism, how will it play out? Would they have the option to stay anonymous after doing a private KYC? And in that case, would they remain anonymous without any threat after exposing politicians or global whistle-blowers? If not, well, how is it still twitter? [Man, what is Twitter without controversy!]
With Monetising Videos and creator-friendly content – would twitter still be user-friendly, or will it become a doop of YouTube? Since YouTube premium came into play, unpaid users suffered unskippable ads and dumps of advertisement banners. So how is Twitter going to play it out? Please don't drive away the loyal free feeders. Please! [Sobs]
Okay, there is freedom of speech. But how is Hate speech monitored? Low Moderation means higher resistance towards hate speech and controversy. But how much time do we have until it turns to abuse and harassment? Is Musk going to sit and stare? Though he had commented on the temporary suspension of accounts that speak of child porn and other restricted content, how will it look on the broader level? Will its users still be protected?
With talks and chats coming over, is Elon introducing Twitter payments? Is it a full-fledged system like Pay Pal, or is he planning to leverage UPI to bring out a stream of payments just like Whatsapp UPI?
While we expected the Twitter cage to be under Elon, he took his own sweet time to make this decision. He freed the bird.
So the question and the much-awaited anticipation is: being domesticated so far, how will Twitter survive being free? Is it just like the other domestic birds fall prey to the other wild beasts, or is it going to flutter its wings higher and fly across the horizons and speak about its new master? The question is left alone for a time to answer.
But yeahh looks like it's the golden period for us creators and business owners to make the most of this big-breasted bird. So why wait?
Post your first/next tweet, and Tag me in!
@Marketingauditr